Majestic operates a 'direct from store fleet' of around 250 vehicles and VGL has been providing their fleet livery since 2016.
To regain consistency of brand presentation and messaging across all the stores and vehicles, the decision was taken to bring the management of the livery under one central function. As part of this exercise, a new and contemporary Majestic brand was launched. VGL was an integral part of the successful rollout of this rebrand through the transitioning of the new design across a combination of In-Service vehicles and new fleet additions.
Additionally, the pandemic caused disruption to new vehicle supply, resulting in short-term leasing of unbranded vehicles to bridge the gap. Majestic was mindful of the impact that unidentifiable vans might have on some residents, and they therefore asked VGL to provide a short-term solution.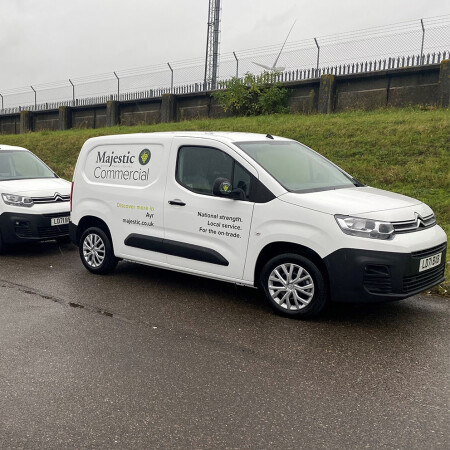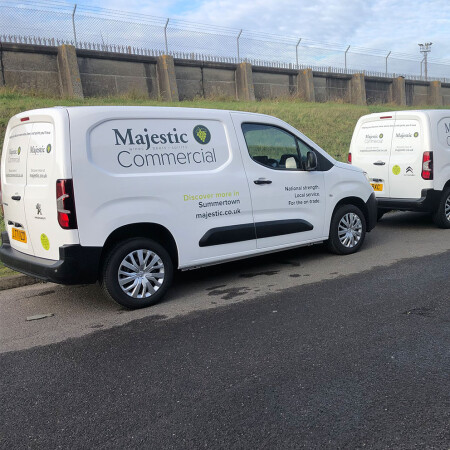 VGL Transport Brand Experts.
VGL successfully provided Majestic with a complete vehicle graphics solution, spanning both new build and In-Service activity.
With the leased vehicles being In-Service, it meant that it was not possible for stores to correctly apply the vinyl branding themselves without causing damage. Our solution was to provide magnetic roundels that could easily be applied by store personnel and removed at speed, enabling consistent branding without damage to the asset and hassle-free de-branding at the end of the leasing period.
Colour Management.
Colour matched new fleet additions, and the subsequent supply of In-Service crash repair components, are essential for the success of fleet management teams and stakeholders.
VGL uses GMG Colour-Server to ensure accurate and consistent colour reproduction across print runs and campaigns, providing complete reassurance of brand compliance throughout the vehicle's lifespan.
Portal Technology.
The management of Majestic's vehicle livery was simplified through the use of the VGL Portal Technology. The portal provides the user with a designated hub for version-controlled artwork and allocation of designs to a particular vehicle model - or even at the vehicle registration level - combined with a streamlined ordering process. Gated access ensured that Majestic stores, or body repairers, had access to a quick and intuitive ordering system, while remaining within Fleet Management's centralised control.
At VGL we have a knowledgeable team of graphic experts. The team is nimble and has the systems in place to devise innovative solutions to challenging situations. If your project falls outside of the normal requirements don't hesitate to speak to us today to see what we can do for you.