Whether you are looking for an office refresh or a complete overhaul, with VGL you can transform the look and feel of your workspace with architectural graphics.
Altering your existing offices can improve your employees' performance, reduce costs and enhance your brand and company culture. The COVID pandemic has had a big influence on how workspaces are structured, with many staff now working from home more frequently, creating opportunity to use freed up spaces differently. By refurbishing your current rooms to meet new health and safety measures and evolving workplace requirements, you will help keep your people safe and productive without compromising on experience.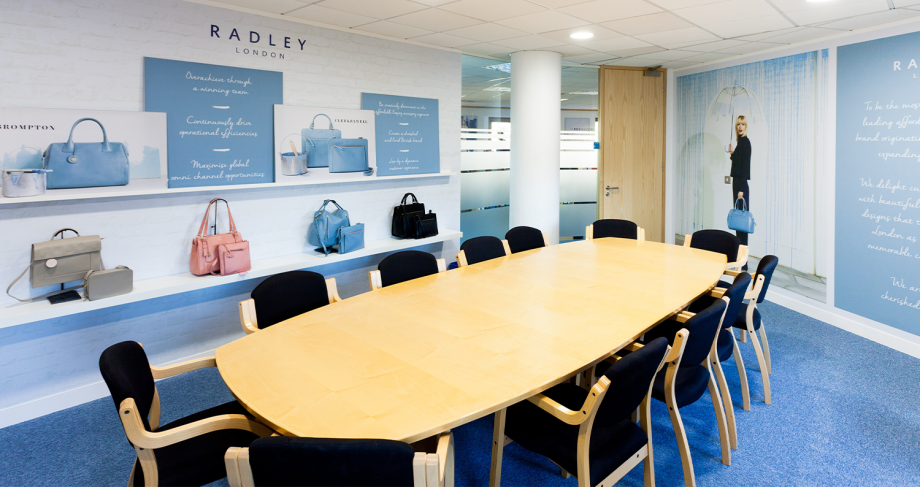 Our Portfolio of Architectural and Interior Print Products
We encourage a meeting between our Account Manager and yourself to properly assess what it is you want for your office graphics and to go through the options we can offer. As printing experts with over 40 years of experience, we have revitalised all types of spaces, both indoors and out, for businesses, retail and leisure and sporting venues.
There are many different print techniques and materials we can propose. Deciding which will give you the best result depends on several factors, such as appearance, durability (temporary or permanent), whether it is for inside or outdoors, whether there are any access constraints and installation obstructions, environmental conditions, and more. To help you start picturing what might be possible for your office graphics, let us outline some of our customers' favourite products in our portfolio:
We offer options for architectural graphics for indoors, as well as material that can weather the elements outdoors. Glazing manifestations create depth, add colour, allow for privacy, play with light and shadows or even select a film with a specialist finish, for example for anti-graffiti or antimicrobial.
This revolutionary interior graphics product will alter the appearance of brickwork, concrete, tiles or any textured surface. The film tightly adheres to the wall, allowing for the texture to come through, whilst still giving a sharp image on top. Any image or colour can be used and finishes can be either satin or lustre.
Fabric Frames for Walls and Surfaces
Fabric frames are excellent for displays that need frequent refreshing - new canvases can easily be swapped in and out. The fabric also provides a unique texture and appearance, different to films or paints.
Be extraordinary…. With Surface View, a sister company to VGL, we offer an unparalleled image library from artists and galleries around the globe. With art like this you can create truly impactful office graphics. Choose from a mix of luxurious, eclectic, iconic and plain beautiful images, transposed onto tiles, wallpaper, canvases or films, depending on where you want them displayed.
A Step-by-step Guide to How we Manage Office Refurbishment Projects
Explore – Together we will discuss and explore your brief. A VGL Account Manager will come to your offices to better understand the current layout and go through options with you in person.
Define – We will take your ideas and translate them into a large format print solution using the design you provide. Prototypes give you the opportunity to see what the design will look like on the final material of your choosing.
Plan – Once we understand the scope of the project, we will lay out a plan to meet your desired launch date, a process that includes regular updates to all stakeholders.
Print – Printing is all done inhouse at VGL, with rigorous quality checks to ensure strict adherence to the initial brief.
Install – VGL has a National Network of Approved Installers. You will be assigned your own dedicated team, who will carefully and diligently go about transforming your existing workspace into its new arrangement.
Aftercare – Our service does not stop with the sale. We are always on hand and should you want to discuss anything after installation, our friendly teams can advise on what would deliver you the best results.

Speak to VGL today to start exploring what is possible for your office graphics.