Recipe box delivery service, Gousto, launched a large outdoor media brand campaign as part of its latest marketing activities.
As part of this OOH advertisement, Gousto partnered with media agency, the7stars, and creative outfit, Mother, to launch a 70-meter promotional graphics takeover of London's King's Cross tunnel.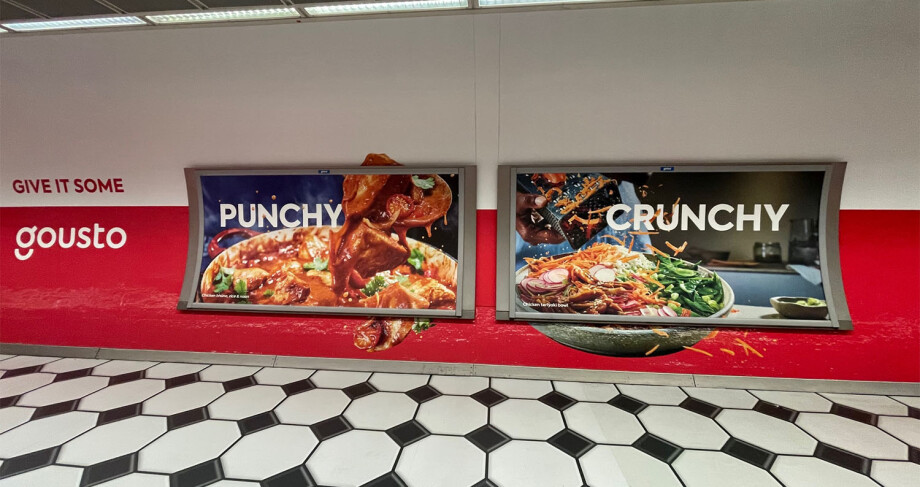 Supporting the main train station takeover, Gousto also commissioned tactical OOH ads, placed in David Lloyd gyms, to promote their healthy eating initiative. In these, Gousto brand ambassador Joe Wicks, who has just renewed a two-year deal with the company, can be seen advising on his favourite handpicked recipes for a healthy diet.
The challenge for VGL was to ensure colour consistency along the 70-metre-long corridor promotional display. The branded campaign consisted of 12s posters, floor graphics and wall graphics. Rigorous attention to detail also ensured accurate alignment of the black and white panels along the complete graphic of the tunnel takeover.
"Outdoor is a key channel for Gousto, bringing a digital-first brand into the physical world. The King's Cross tunnel delivers an immersive and unmissable experience, allowing us to truly bring Gousto to life."
- Tommy Gleadell, Account Director at the7stars.
Through an unmissable advertisement campaign, Gousto is catching the attention of more hungry customers and our VGL graphics have been instrumental in driving the success of this promotion.