31 Aug 2021
Frame Your Graphics
Ideal for any interior space, fabric frames, tracks and lightboxes are a great way to add colour, light and impact to your projects. Incredibly simple to install and refresh, fabric graphics can instantly change the appearance of your space to suit your creative visions.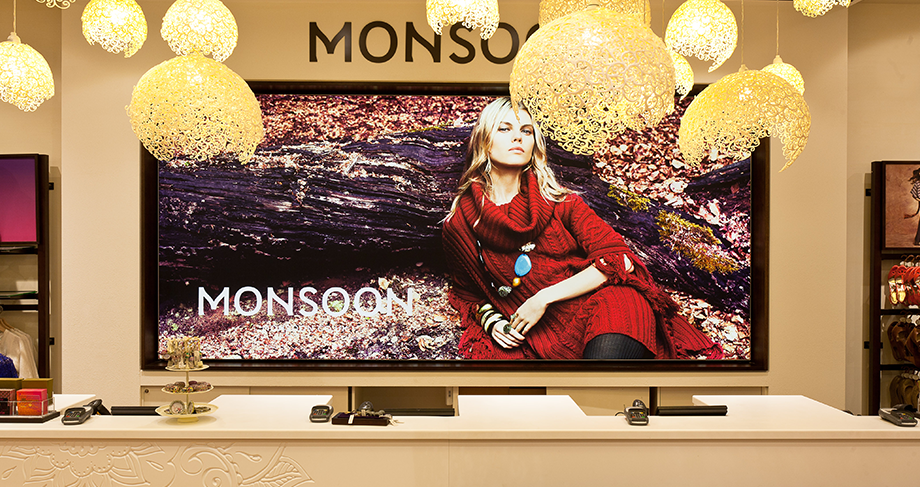 Assurance of Expertise
For over 15 years now we have been transforming spaces with our in-house design and production of fabric display systems. We select profiles and components without the boundaries of a single system mindset; each application is carefully considered to use and ongoing application. A large focus is on silicone-edged fabrics in tandem with aluminium tension frame systems (TFS). TFS offer the capability to easily interchange large format prints and can be used in a wide myriad of formats.
From the simplicity of varied depth wall frames, through to three dimensional structures and lightboxes, our experience in creating your visions in fabric is assured.
Graphics for Today that Consider the Impact on Tomorrow
With over 75% of all aluminium ever produced still in use today because of global recycling schemes, it is the environmental gold standard in terms of material of choice in your display systems. Coupling its benefits with the environmental credentials of fabric print production means you can consider the environmental impact of your project, as well as aesthetic choices.
At VGL we are continually exploring new offers that minimise the negative impact on the environment. The use of rPET yarn-based fabrics, made from recycled clear plastic bottles, further increases the view towards a more sustainable, responsible print future. The fabric graphic is produced through sublimation and so even the largest display can easily be folded down for shipping, cutting down on both packaging and transport costs.
An additional benefit to fabric systems is how easily the final print can be slotted into the frame, as no specialist skills are needed to interchange between different images. This makes the systems perfect for both single and repeat usage as it negates specialist installation team costs and the associated carbon footprint.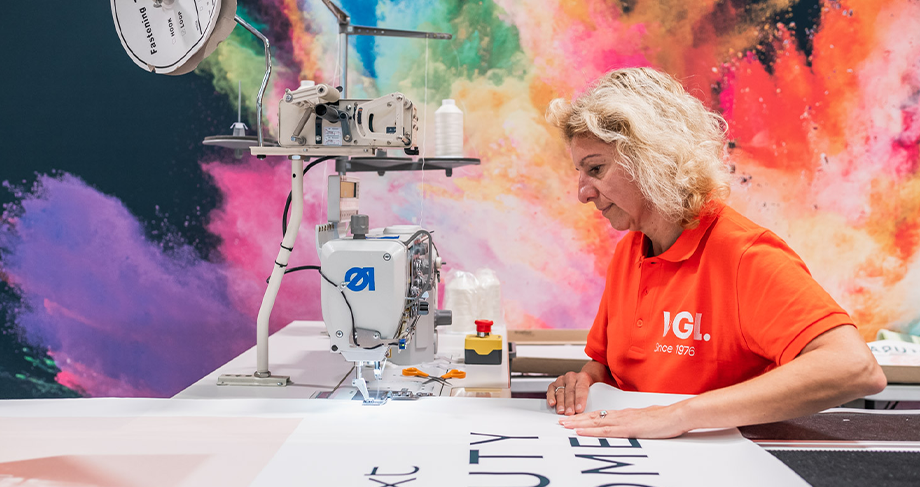 Impact with Illumination
At VGL we have been working with light and the printed image for over 40 years, and in considering the balance between ink and substrates we bring that knowledge to the fore in new ways with fabrics. Working alongside our cutting-edge dye sublimation team, and the finest technical fabrics available on the market, we design and build custom light boxes for a wide range of applications. VGL offers products in both edge and rear illumination across a wide range of specifications, depths and lighting control to suit the most demanding of projects.
At VGL we believe that having the comprehensive ability to match backlit textiles with ink processes to frame profiles and lighting solutions gives our clients the very best output and impact and a unique position in their competitive marketplace.
All our units are supplied tested and logged to specific projects with code referenced labelling that ties back to the actual design of every box through production. This gives our clients confidence that, should a unit be moved or damaged in the field, we can assist with any technical requests or repairs quickly and effectively.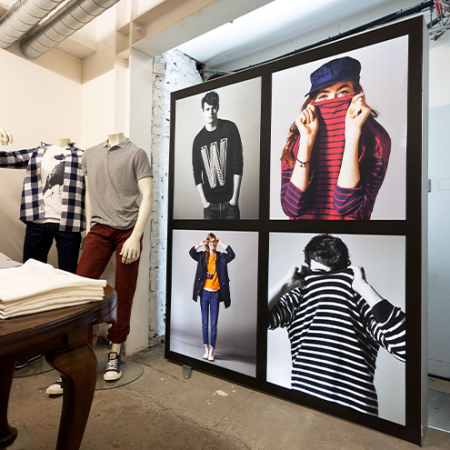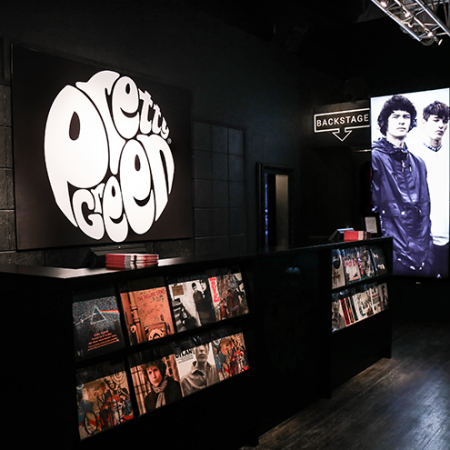 Suit the Shape to Your Space
Frames need not only be thought of as flat wall treatments. At VGL we offer frames with varying depths, but we also make hanging features of more than one dimension/plane in the form of a box, or a series of angle frames or curves. Typically suspended from a ceiling or truss, hanging frames and features can be used to create something really show-stopping.
The Fun is in the Finish
Frames are supplied as standard in a sliver anodise finish but can easily be powder-coated to any RAL colour, as well as utilising our wider print facilities to wrap profiles in bespoke printed images and finishes. Single- or double-sided printing of the fabric is possible, so these frames can be either fixed to a wall or free-standing in the various formats described above.
VGL Manage Everything Inhouse
At VGL we always consider the desired end result and create stand-out printed products to fit the brief. In the case of fabric frames and lightboxes, this means that we design and supply the finished framework complete with wiring and connections, as well as the printed fabric.
Our team of approved installers carry out the initial installation and will also train your staff to replace the fabric with new designs for any future changes. Alongside this and the production of the material, we have an inhouse Creative Studio and design team, making it easy for you to explore various options before pressing the button to print.
Speak to one of our team today and find out how we can transform your space.