At VGL we pride ourselves on the continually high quality of work supplied to our customers. Our commitment to quality management standards in large format print is a core principle of the business, which guides decision-making on an ongoing basis.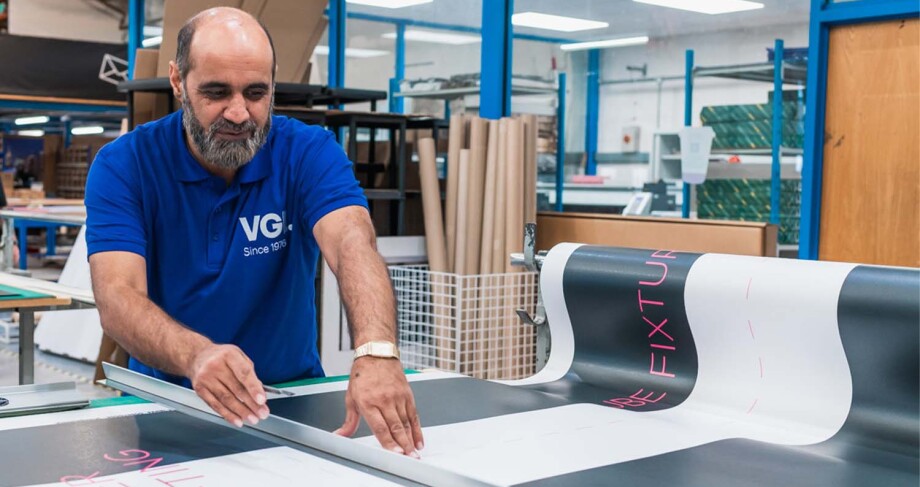 Doing it Right
We care about delighting our customers and have implemented robust operational and control methods across all our vinyl graphic printing facilities to ensure adherence to agreed parameters. This also allows us to monitor performance and efficiencies, which we believe enhances our competitive advantage.
As vinyl graphic specialists, we have structured our business into dedicated operational units to get the best out of each department and ensure smooth management of processes. Work with VGL and your project will include the help of the VGL Consultancy team, the Creative Studio, our Project Managers, the shopfloor staff, our Installers, everyone in Quality Control and a full team of people helping make it all happen.
The success for VGL as a commercial printer has been in our ability to embrace constant change and, in 1992, we were the first UK graphics company to be awarded the BS5750 Pts I & II standard for Quality Management. Since then, we have continued to maintain and improve our processes, which are now accredited to the internationally recognised Quality Management System ISO 9001:2015 and BSI2021.
Print that Cares About the Environment
Concern for our impact on the environment is always at the forefront of our minds and makes up an important aspect of quality management for us in large format printing. As such, we have a fully integrated ISO 14001:2015 Environmental System that works alongside our Quality System. Our commitment to being leaders in the print and graphic industry is clear through our choice of eco-friendly materials, how we minimise waste, our approach to commercial printing with an end-of-life view and the investment we make in technology that supports this initiative.
We are also Sedex members, a standard awarded because of the sustainable and ethical business practices we have set, how we source responsibly and look for continuous improvement to our global supply chain.
Quality Commitment On and Off Site
Our staff are passionate about making sure that every printed graphic that leaves our facilities is 100% perfect every time. All our employees are trained in their specialist fields of large format print and are instrumental in making the VGL machinery work smoothly and efficiently. Creating a safe working environment ensures our staff can focus on producing great quality vinyl and fabric graphics. Being a Gold SafeContractor accredited member is just one aspect that demonstrates how VGL is committed to the best-in-class Health & Safety practices in our manufacturing plants, as well as during the installation of our products off site.
Working with Select Suppliers
VGL chooses its suppliers carefully and only after consideration through a strict vetting process. Our management of materials once on site is also carefully regulated in environmentally controlled storage facilities, where we monitor temperature, moisture and other changes that might affect the quality of the substrates. This means we can rely on the materials used throughout our business being in optimal condition to produce the best quality finished graphics.
Our Customers Trust in Us
VGL has been successfully commissioned for new and returning projects for over 46 years of working in large format print. As well as the accreditations garnered above, we are proud to be RSQS Registered. The RSQS Registered mark is valued by some of the largest purchasers in the retail sector and indicates that we, as an organisation, have gone through the rigorous process required to demonstrate our commitment and credentials in the industry. It is another measure of our passion in printing only the finest quality graphics.
Only the Best with VGL
Quality is never taken for granted at VGL. We work incredibly hard and diligently at every stage to ensure we are proud of the end result. Producing incredible, show-stopping and eye-catching printed graphics is the reason people know of the VGL brand. We are leaders in our industry and have been pushing the boundaries of innovation and exceptional large format print for decades.
If you are looking for the exceptional, speak to VGL.