Our mission is to support our clients across the UK with the highest quality printed graphics.
We look forward to handling every aspect of your branding and print marketing needs. To give you confidence that your project will be completed 'the VGL way', your print graphics will be installed by one of our approved installers.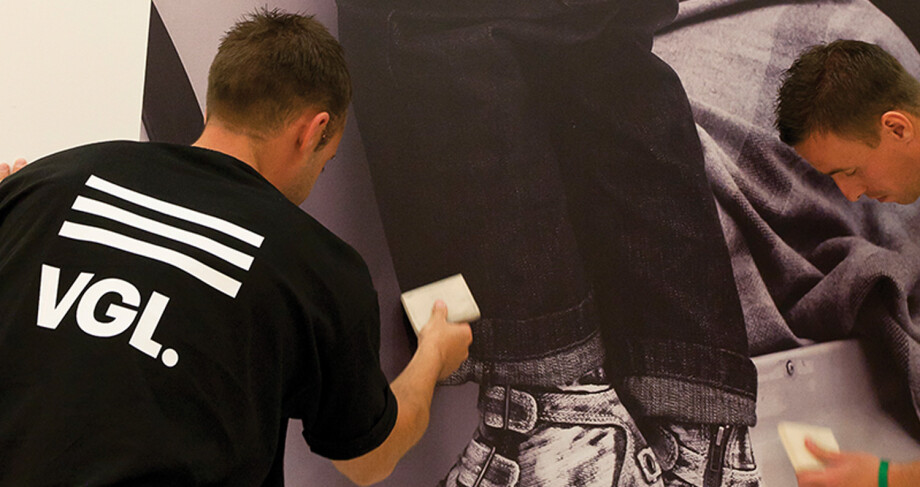 With VGL, You Only Work with the Best
Our installers are experts in their field, and we choose to work with only those skilled and experienced in large format print with the appropriate safety certificates and commitment to environmental and quality standards.
VGL installers are PASMA and IPAF qualified, covering machine powered or platform tower access. They are also part of the Construction Skills Certification Scheme (CSCS) and have additional qualifications in SMSTS – Site Management Training Scheme.
Our ongoing work-based training also ensures VGL installers always adhere to the meticulous attention to detail required in this specialist area of large format graphics, covering surface preparation and material application specifications.
As large format print specialists, we provide a complete installation service, covering retail graphics, various types of architectural and interior graphics, exhibition graphics, office signage, wayfinding, hoarding installations, building wraps, point of sale graphics and commercial vehicle wraps. VGL can install outdoors and at height.
By continually investing in our equipment, facilities and people we can guarantee the best possible service.
Our National Network Means We Come to You
Our customers are global and, in the UK, we have set up a network of installers in all regions to be available to our clients when they need it. We provide the assurance that you will receive the high grade VGL service no matter where you are based.
Pre- and Post-Installation Care
No graphic installation is carried out without a thorough pre-installation audit. Site preparation is undertaken to ensure optimal print graphic quality for the full life of the graphic. We work with you to prepare the surrounding environment, accounting for issues around access, removal of obstructions, temperature and moisture control as well as surface preparation.
We use the latest technology to communicate quickly and efficiently with our clients. A secure online portal allows us to share imagery of the print graphics and photography of the final installation, facilitating client approval.
Our installation team report back all findings from the pre-installation audit and from the installation process itself to Head Office and a customer's dedicated account manager to create a smooth and continuous handover of operations.
Installation to the Highest Standards
We have over 40 years of experience in completing large-format graphic installations and deliver to the highest installation standards, even under challenging timeframes. VGL has expertise in all types of graphic applications and materials, including an ever-expanding sustainability portfolio.
Sustainable Working Practices
We care about our environment and strive to do business in a way that minimises our impact on it as much as possible, as shown through our Environmental Management System accreditation to BS ISO 14001:2015. We take a full product life cycle approach, evaluating our impact at every stage, and aim to offer sustainable options in line with customer requirements.
Our Waste Hierarchy ensures we optimise all waste streams, and this is factored into our methods of installation.
Reduce – through ongoing investment and regular printer maintenance, we can ensure our printing processes are as efficient as possible. We pride ourselves in our use of sustainable materials, such as the environmentally friendly 'Nordic Swan' accredited inks of our Durst UV printers that emit no VOCs. Other examples include our latex lines which utilise eco-friendly inks, the use of digital textiles and printing with water-based dyes that are VOC-free. We offer PVC-free Kavalan banner material which matches other banner materials in all quality, fire safety standards and visual appearance. Our teams are trained to work with any new products as soon as we make them available to our customers.
Re-use – our repertoire of print products includes materials, such as fabric frames, which can be replaced, stored, reused and repurposed. In some cases, the client chooses to manage this themselves, but our Installation teams are on hand to support if needed.
Recycle – we believe the sustainability of materials for a project should be considered at concept stage and the end-of-life mapped out from the start of its lifecycle. VGL is also working in partnership with local recycling schemes, opening up avenues for further recycling at end of life.
Remove – where materials cannot be processed further, including for the removal of existing graphics, our teams will take them down and transfer to appropriate waste facilities.
Achieving zero waste to landfill from our print processes over the last 6 years is something we are very proud of. By continually exploring new material options with our suppliers and partners, we remain at the forefront of sustainable print technology.
Can We Help Install Your Next Project?
VGL is a leader in Iarge format print and we have the full team, from concept through to installation, to make your project a success. With VGL you can be sure that the fantastic print graphics you have designed will become a show-stopping reality for all to see. Speak to us today to get your next project off the ground.