Ralph Davies International Ltd., supply chain and logistics coordinators specialising in food ingredients and manufacturers, requested the help of VGL to brand a new fleet of 15 HGV fridge units.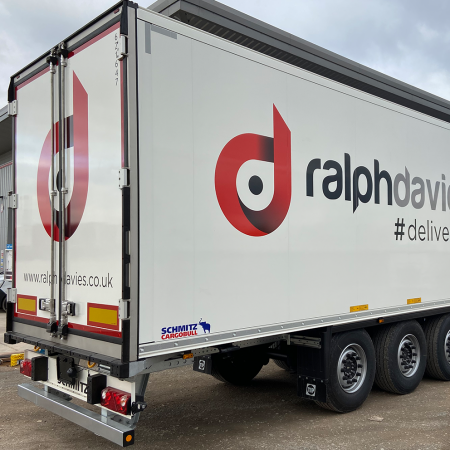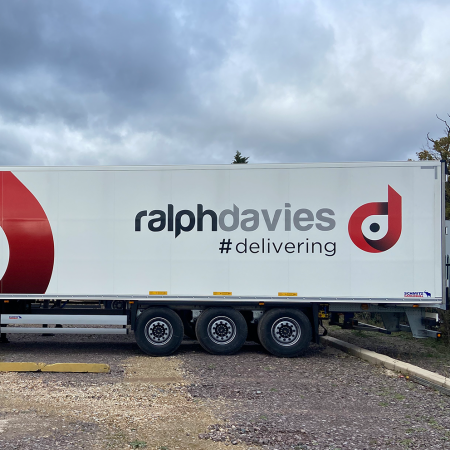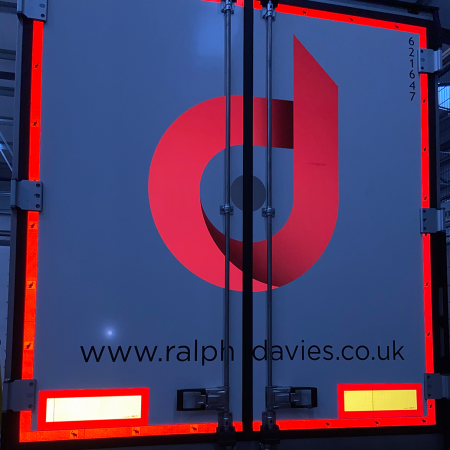 We collaborated closely with Baz Barrett, Head of Transport at Ralph Davies International Ltd., whom we had worked with for several years in his capacity as National Fleet Manager at Whistl. The client provided template drawings of the fridge units, along with the proposed artwork design. This allowed us to scale up the drawings and show what they would look like on the fleet. We discussed various options with the client, including whether to go with full drops or prespaced graphics, explaining the pros and cons of both. Due to the nature of the design and the outlined budget, prespaced graphics was the chosen route. The client was also keen to have the company logo as a reflective vinyl on the rear doors to provide more impact at night, which was a task we were keen to accommodate.
Key VGL project team members met with the client at TIP Trailer Services in Nuneaton, a provider of value-added solutions for transportation and logistics in Europe. There, we carried out a thorough survey of the fridge units to confirm dimensions and review the panels. We needed to understand if it was possible to successfully bridge the gap between the panel splits with vinyl. However, after some consideration, we advised that the material would perform better over life if it were cut to size to avoid it folding in between the panel and wearing over time.
The VGL team was on site for the duration of the installations. All installation procedures and requirements were discussed with TIP prior to proceeding, ensuring all parties were informed and aware of the project developments. The attention to detail by the VGL team and the successful delivery of the project resulted in a glowing testimonial from the client -
"Having worked with VGL for many years, when a project came up in my new role, I had no hesitation bringing VGL in for this. 15 new fridge trailers required livery, so the task was set.
From start to finish the communication from Andrew Warrender, our (VGL) account manager, was spot on, and he went over and above to ensure the livery was designed, cut and fitted to deadlines that we set. The finished product is, as you can see, superb and we are all delighted at RDI with the end result. Highly recommended."
- Baz Barrett, Head of Transport at Ralph Davies International Ltd.