North London based Grace Wasyluk, of Gracious Spaces, called on Surface View, a sister company to VGL, for assistance with an interior design project for two of her clients, Poppy Smith and Karim Kassam.
Surface View specialises in customised artwork from famous artists and galleries around the globe, whilst Gracious Spaces offers a personal and flexible interior design service. The clients, Poppy and Karim, were looking for an impactful and eye-catching mural to span two levels of stairs within their stairway, hallway, and landing.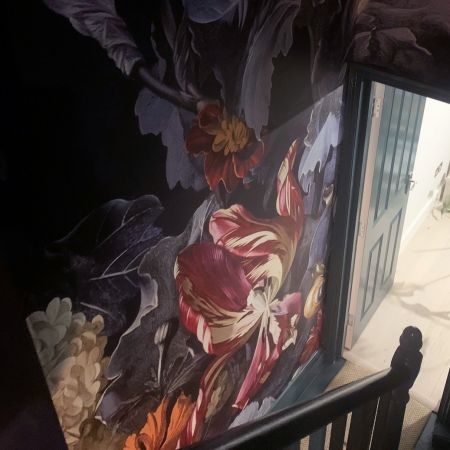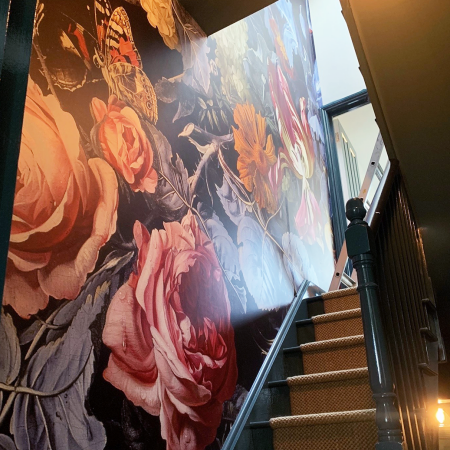 To deliver the best results for the clients, we went on site to carry out a detailed survey of the stairwell. It allowed the installation team to determine the texture of the walls, which materials would give optimal results and whether there were any obstructions impeding installation. This was all brought back to the VGL head office to discuss with the wider project team and determine a plan of action. Consequently, we advised on what wall preparation was needed prior to the application of the mural, to ensure the appropriate adhesions for the graphics.
The next stages of the process involved our Studio compiling a layout to show a mock of the proposal. The client suggested a few potential artworks, and we recommended two in particular which, when blended together, created a unique finish that worked well with the layout of the space. The preferred images were 'A Vase of Flowers with a Watch' by Willem Van Aelst (code ASH0260) and 'A Vase of Flowers on a Table' by Simon Verelst (code ASH0270). Both selected from the prestigious Ashmolean Museum collection, available on the Surface View website.
It was lovely to receive the following feedback from the client and to know that we have successfully implemented the project in accordance with the client's expectations.
"WOW - the mural looks amazing, the client is beyond thrilled and the installer was an absolute superstar! I wanted to let you know - fantastic service from start to finish!'
- Grace Wasyluk of Gracious Spaces.