Prepare for the New Normal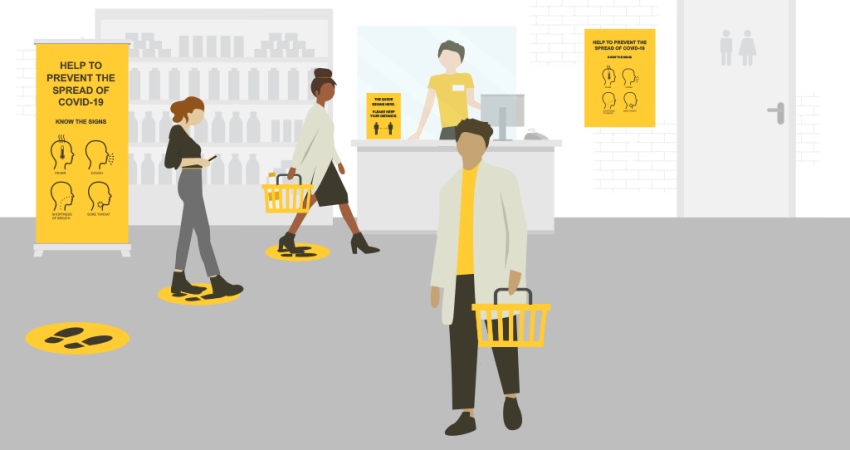 In the not-so-distant future, retailers and other services will begin to open again, as we all adjust our lives to the 'new normal'.
Life post-lockdown
We will all need to continue to abide by Social Distancing rules. Visually demonstrating the government guidance to achieve a safer environment is the best way to inform, educate and keep your customers and employees safe.
Large print and graphic displays both highlight and demonstrate social distancing and hygiene rules allowing people to follow your specific guidelines, helping us all get back to the normal we all want.
VGL offer a range of products that can be used for anything from in-store promotion to safety and directional signage. External grade materials are ideal for street marking, pavement graphics, rail concourse applications and more.
VGL use materials that are easy to apply and remove and guarantee durability.
Products available (but not limited to)
A Frames
Window Vinyls
Banners
Cardboard Security Covers
Circular Floor Stickers
Directional Floor Graphics
Hanging Information Boards
Paper Mats
Stair Graphics
Lift Graphics
Sanitiser Stations
Polycarbonate Sneeze Screens
Card Sneeze Screens
Health and Safety Signs
Posters
Hygiene Information Stickers
Queue Information
Flyers
VGL offer a full end-to-end Graphics and Signage service from design through to production and installation. We create large scale posters and all other forms of safety messaging – whatever you need.
Should you require any Signage for Social Distancing, Hygiene or any other future messaging, please do not hesitate to contact us.